For several decades, the Feres Doctrine has prevented members of the United States military from seeking compensation from the government for injuries sustained in the line of duty. An unfortunate side effect of this doctrine has impacted the degree to which military personnel can file medical malpractice claims if the care they received for such injuries was improperly or negligently handled.
Finally, this may be changing, thanks to provisions in the National Defense Authorization Act Congress passed in December 2019. A factor which prompted this change is the testimony of Sgt. 1st Class Richard Stayskal. In April 2019, Stayskal testified before Congress, explaining how physicians at Womack Army Medical Center misdiagnosed his stage-four cancer.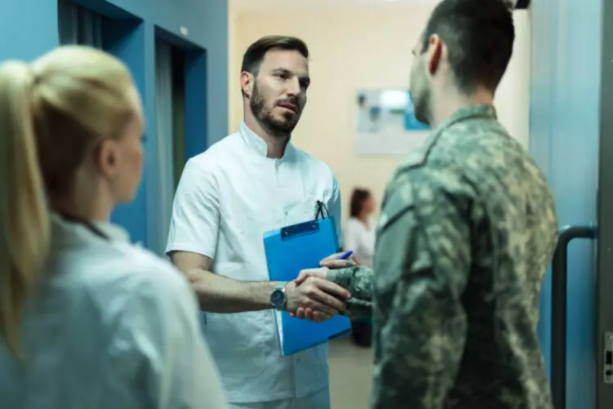 Stayskal initially sought treatment when he developed breathing difficulties during a dive qualification course. The medical care providers at Womack Army Medical Center diagnosed him with pneumonia, overlooking a tumor. By the time a proper diagnosis was made, the cancer had spread throughout Stayskal's body to the point that saving his life was impossible. Failure to provide a timely diagnosis prevented him from receiving earlier treatment.
Stayskal presented his case with the help of his attorney, Natalie Khawam, and Republican Rep. Richard Hudson. After meeting with Stayskal and hearing his story, Hudson, along with Democratic Rep. Jackie Spier, filed the Richard Stayskal Military Medical Accountability Act of 2019.
Thanks to this new legislation, the Department of Defense is now authorized to pay out up to $400 million in compensation for medical malpractice claims filed by injured or ill military personnel or their families after January 2017.
Hudson explained that the Feres Doctrine was originally established with good intentions. One of its key purposes was to protect medics on the battlefield from being sued. It was reasonably feared that medics would be hesitant to make potentially life-saving split decisions in the heat of battle if they were concerned that errors would result in them being the targets of lawsuits.
It's important to understand that the Feres Doctrine remains in effect to some degree. The existence of this new bill doesn't necessarily overturn it. Instead, it provides DoD officials with a means of reviewing individual claims. This, in turn, may allow victims of medical malpractice on the part of the government to receive compensation. Individual claimants can receive compensation up to $100,000. Officials will review each claim on a case-by-case basis to determine how much compensation claimants are entitled to.
Those in a position to seek compensation under this new bill must understand certain details of the process. Although there are many similarities, it's not exactly the same as the process for filing a civilian medical malpractice claim. 
Those filing medical malpractice claims to recover compensation for injuries and losses sustained during or as a result of military service need to prove that the malpractice of which they were a victim occurred in a DoD medical center, ambulatory care center, or inpatient hospital. Claimants filing after 2022 have three years from the time the medical malpractice occurred to file claims. Claimants filing claims for instances of medical malpractice that occurred between 2017 and 2022 have only two years to file.
When filing a claim, victims or their families must provide a detailed account explaining the nature of the medical malpractice. They're encouraged to provide a "preponderance of evidence" when doing so.
Claimants must also state how much compensation they're seeking. Because determining how much compensation one may be entitled to can be a difficult process that involves accounting for a range of losses, it may be wise for claimants to enlist the help of qualified medical malpractice attorneys when putting their claims together. An expert attorney will understand how to calculate an appropriate sum.
The DoD will not require claimants to include an expert opinion when submitting a claim. However, doing so may be a smart choice. The DoD allows claimants to provide "whatever information and documentation they believe necessary to support their claim, as claimants have the burden to substantiate their claims." If a claimant can submit an expert opinion, it could strengthen their claim.
There are also some restrictions and limitations on claims filed by reservists. For a reservist to file a claim, the injury or condition associated with medical malpractice must have been one that was sustained or developed while they were in a federal duty status.
In general, a claim can also only be paid if it's determined that there is no way for a claimant to settle their case or otherwise receive compensation under another law.
This is another reason claimants may want to strongly consider working with medical malpractice attorneys. Gathering the necessary evidence and determining whether they should first seek compensation via another means can be challenging if a claimant doesn't have significant legal experience and a thorough familiarity with all the applicable laws. A claimant may thus have a better chance of receiving the compensation they're owed if they coordinate with an expert who more fully understands the nuances of the legal system.
It's also important that a claimant file a claim with the branch in which they serve or have served. For example, Army claims can be directed to the nearest Office of the Staff Judge Advocate, while the tort claims unit of the Office of the Judge Advocate General will handle claims for the Navy and Marine Corps.
The process has also been designed to ensure taxpayers don't pay for the "same injury twice." Thus, if a member of the armed forces already received some degree of compensation in the form of benefits, the amount of compensation they've received will be deducted from the total value of their claim. For example, if a claim may be worth $10,000, but a claimant has already received $2,000 in VA benefits, the maximum compensation they could receive would be $8,000.
Because this is a very recent development, it's unclear just how significantly this will impact the lives of injured service members and their families. Still, given the challenges faced in the past, this is clearly an important change in procedure and policy.